Integrated storage & networking with guaranteed QoS
For enterprises that manage containerized applications, certain functions are table-stakes: data availability, backup, disaster recovery, performance and networking — including across hybrid and multi-cloud environments. Moreover, teams must eliminate both "noisy neighbor" problems and the overprovisioning of resources.
Ultima Enterprise is the cloud-native storage and networking platform trusted in production by the world's largest enterprises and most heavily regulated industries. Ultima Enterprise runs anywhere — on any Kubernetes distribution, cloud, VM or bare metal — to reduce the cost and complexity of deploying containerized applications. Combining networking & storage, Ultima delivers data efficiency through thin provisioning and data footprint optimization, with encryption for data at rest.
With integrated storage and networking for containerized workloads, enterprises gain true turnkey, end-to-end management for their Kubernetes workloads. Moreover, Ultima delivers transformative results for customers:
Guaranteed performance with policy-based QoS for storage and networking
Elimination of "noisy neighbors" and overprovisioning
Enterprise-grade storage with mirroring, snapshots, asynchronous replication, backup and recovery
Built-in security
Seamlessly integrate with existing data center network
Comprehensive, end-to-end Kubernetes management
Supercharge bare metal performance with hardware I/O offload cards
The Diamanti Ultima Accelerators enable screamingly-fast storage and networking performance for on-premises workloads at scale. By offloading storage and networking I/O traffic from the CPU, you can free compute and memory resources and enable greater than 95% host utilization for your workloads. With the Diamanti CSI and CNI, enterprises enjoy not only combined storage and networking, but guaranteed SLAs for their containerized workloads.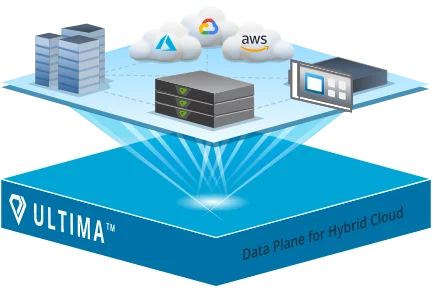 Through reduced CPU usage on Kubernetes nodes and better data efficiency through thin provisioning and data footprint optimizations, customers who opt for Ultima Accelerators see transformative improvements:
10x to 30x performance improvements, with >1M IOPs per node and <100 ms latency
Enhanced QoS with PCIe-level isolation among tenants
70% lower TCO for Kubernetes deployments
80% smaller hardware footprint
Manage Kubernetes anywhere
Spektra Enterprise is the complete cloud-native software stack for deploying and managing containerized applications. It takes the complexity, operational and security challenges out of managing multiple Kubernetes clusters, while providing infrastructure, DevOps, and application teams with integrated tools for running containerized workloads.
Diamanti Spektra includes full distributions of Kubernetes application lifecycle management, and user and project management and collaboration — among other features — making it simple and easy to run Kubernetes everywhere, at any scale — from the data center to the cloud to the edge.
Spektra includes application and data mobility, plus advanced data services, infrastructure observability and control.
With Diamanti Spektra, enterprises gain true end-to-end, simplified management for their containerized workloads across any environment.
Centralized Kubernetes management across multiple clusters and hybrid cloud
Easily deploy, manage, migrate and failover stateless and stateful applications
Secure multi-tenancy with hard isolation
Real-time monitoring with container- and multi-cluster-level metrics and intuitive dashboards for compute and memory consumption, network utilization and storage performance and capacity
Complete application lifecycle management
User management and access controls
Plug-and-play networking
Enterprise-class data management