Online shopping has taken off during the latest crisis as we observe a surge in shoppers searching, browsing and purchasing products online. To remain competitive in the market, retailers need to ensure that their customers can retrieve relevant product searches at a blazing fast speed. Deploying Elasticsearch on the Diamanti platform delivers a search function for a site that can retrieve accurate items in near real-time which is essential for businesses to succeed and gain a competitive edge.
Elasticsearch is a powerful distributed, open source search and analytics engine for all types of data—textual, numerical, geospatial, structured, and unstructured. Along with full-text search, Elasticsearch expands to various other use cases such as application performance monitoring, geospatial data analysis and visualization, log monitoring and analytics.
All these use cases deal with huge amounts of data and require near real-time search results, demanding an optimized infrastructure that can seamlessly scale and accelerate the performance of Elasticsearch clusters. When it comes to deploying Elasticsearch into production environments, the underlying infrastructure must provide data security and enterprise-grade storage services such as data protection and disaster recovery.
Deploy Elasticsearch on Diamanti
Elasticsearch and Diamanti bring together a scalable, highly performant and production-grade search solution on bare-metal Kubernetes infrastructure. This brief demo provides an overview of how to deploy the Elasticsearch cluster on the Diamanti Platform.
A Turnkey Solution for Elasticsearch
With the growing adoption of Kubernetes, organizations want to take advantage of containerized Elasticsearch to collect, index, analyze and draw insights from the data. To cater to this need Elastic introduced Elastic Cloud on Kubernetes (ECK), an orchestration product based on the Kubernetes Operator pattern that lets users provision, manage, and operate Elasticsearch clusters on Kubernetes. The Diamanti platform is fully compatible with ECK, which helps in automating all the Elasticsearch operational and cluster administration tasks.
Accelerate Performance with Diamanti Ultima
Diamanti Ultima enables applications to achieve maximum performance out of the infrastructure. Diamanti Ultima is a pair of second generation PCIe-based I/O acceleration cards that offload networking and storage traffic, freeing up compute resources to power modern applications and deliver dramatically improved performance. The unique aspect of Diamanti Ultima is the policy-based quality of service (QoS) feature with which an application is assured a specific level of storage IOPS and network throughput at all times. This not only helps in meeting SLAs but also helps in avoiding noisy neighbor problems. These improvements are highly critical for modern applications that are highly distributed and scale-out on demand.
Secure Elasticsearch Data
The Diamanti platform provides software (volume encryption) and hardware (self-encrypting drives) security measures. With this capability, enterprise customers can prevent data theft and protect against security breaches while not incurring significant performance penalties. In addition to this, Diamanti Ultima I/O acceleration cards give enterprises the ability to segregate public and private network access at the container level, allowing Elasticsearch data nodes to be completely hidden thereby protecting critical data from the outside world.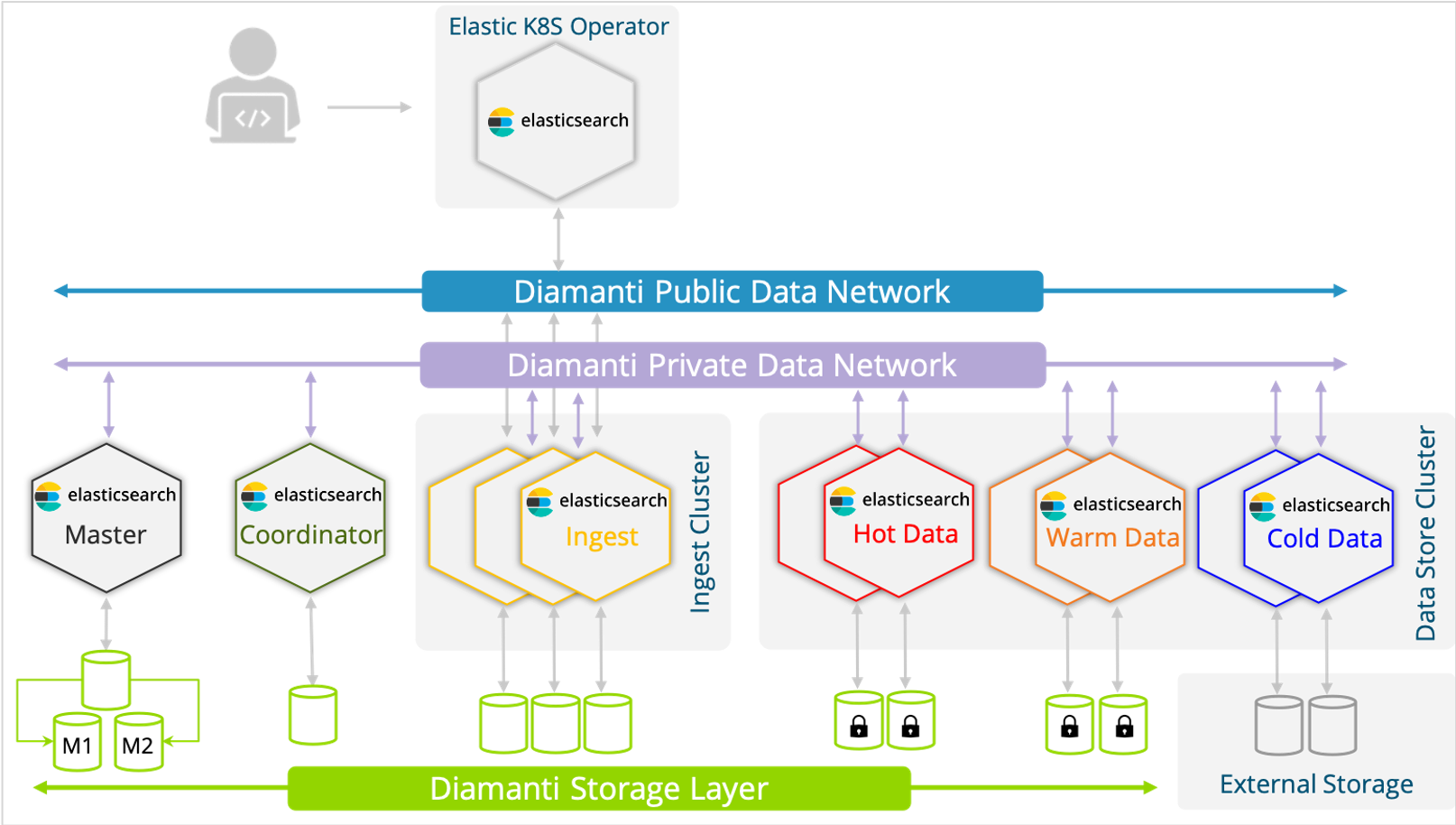 Enterprise-grade Storage Features
Using Diamanti's intelligent storage architecture and NVMe-based storage, Elasticsearch can generate extremely fast indexing with low latency and consistent high performance. Full enterprise-grade storage services provided by Diamanti Ultima include backups, volume mirroring, snapshot-based replication, and volume resizing.
Diamanti leverages the ability of Elasticsearch to break data into buckets of hot, warm and cold data. Combining this with Diamanti's NVMe-based storage and interoperability with existing on-premises data solutions, an enterprise can structure its Elasticsearch data lake as shown in Figure 1. Using this approach enterprises can ensure all of their on-premises resources are efficiently utilized.
Conclusion
The underlying infrastructure is an important consideration when containerizing high-performance workloads such as Elasticsearch. With the powerful combination of Diamanti Spektra, Diamanti Ultima and Diamanti D20 series, enterprises are able to create much faster, secure, resilient and scalable Elasticsearch deployments.
Diamanti helps enterprises improve the performance of containerized Elasticsearch applications by reducing indexing latency by 80% while saving on the Total Cost of Ownership (TCO). To learn more, register for this upcoming webinar on Deploying Production Ready Elasticsearch.